Re-issued in brown 'Sega Classics' packaging.
"Road Runner is a free wheeling bird, just speeding down the road and minding his own business. But Wile E. Coyote, Road Runner's old foe, has decided that he's hungry for some roast Road Runner. Wile E. will stop at nothing to dine on Road Runner, but with a little luck - and a little help from you - Road Runner may just be able to outsmart that crafty coyote!"
Pro Action Replay Codes
| | |
| --- | --- |
| 00C2 0599 | Have 99 Stars |
| 00C2 2609 | Infinite Credits |
| 00CA F904 | Infinite Hits |
| 00C0 2509 | Infinite Lives |
| 00CA FC48 | Infinite Time |
---
Cheat Mode
In the options screen, select Tune 09 and Sound 12. You can now select 'Cheat' in the Game Mode option. This will give you invincibility.

---
Level Select
In the options screen, select Tune 10 and Sound 07. Move the cursor to Exit and press Left/Right to select your starting level. Note that the maximum level selectable is higher if the difficulty level is higher; and that Cheat Mode lets you access all the stages.

---
Manual Scan
Desert Speedtrap (PAL, Complete)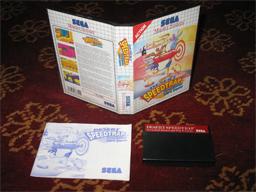 ---
No related pages available.